Substituting a night out at Bonefish
As much as I love a break from cooking during the week, I got tired of the expensive (and often disappointing) experiences dining out.
When we were in the mood for seafood, we used to frequent Bonefish Grill. We like their Prince Edward Island Mussel's Josephine for $12.50 each. After a bottle of wine and the 20% service charge, we could easily shell out $70 for a night out.
Now-a-days, our more budget friendly alternative is an easy to prepare moules frites (French for mussels with fries). A friend had taught me how to make mussels a while back, I've tweaked the recipe over time to modify for our tastes. The whole process takes about 45 minutes and saves us including wine about $37 for two people versus dining out.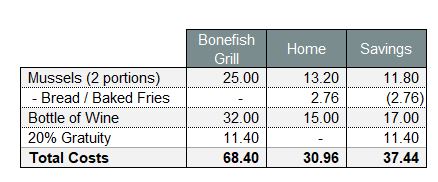 You could substitute store-bought (or better yet homemade bread) for the fries which will reduce the time even further for about the same cost. In addition to the seasoned baked fries, I include a side of saffron aioli.
Check out our recipes for Mussels with Bacon & Lemon Butter Sauce and Baked Fries with Saffron Aioli under the Homestead section.