Little changes can add up to big savings
As I've start down the path of keeping a budget, the Hubs and I are constantly looking for new ways to challenge ourselves to save more. We're not all about making big drastic changes. I don't necessarily want to redefine the way I live, but I want to make smarter decisions that utilize my available resources (i.e. money) more effectively.
One way I've been able to do this is by doing periodic grocery comparisons. Before a few years ago, I admittedly was not price conscious. I would prepare my grocery list based on what I wanted to eat that week and buy what I needed or on a whim based on what looked good. I could not have told you how much I should expect to pay for a pound of chicken. Today, I know $1.99 per pound is a pretty good price for fresh chicken and I know where I can always get it at that price. It's not always the cheapest price, but I also find the cheaper options are usually places that inject the chicken with water or other solutions.
Here's what I've learned about becoming a good frugal shopper (in no particular order).
It takes time to learn the in's & out's
Frugal shopping for me has been a lot of trial and error.
About 6 months ago, I decided to branch out to Aldi for a change in routine. My friend who lives in downtown Philly is always raving about the savings. Plus she has cute items from Aldi like a colorful tote bag I've complimented her on a few times. My first Aldi experience I bought a huge bag of groceries for big savings and I thought "wow this is really incredible!" But over half of the items I just really didn't like. Over time, I've learned that there are some consistently good deals on cheese and staple produces like broccoli, cauliflower, lemons & limes, and bacon, but other items I simply will never buy at Aldi.
Don't expect to cut your grocery bill in half consistently without trying (and failing) at a few alternatives. Don't give up on just one bad experience as you may have overlooked some good deals. I was ready to give up on Aldi after one bad experience, but now I go there once a week and it's helped me save $5-10 per week on some weekly essentials.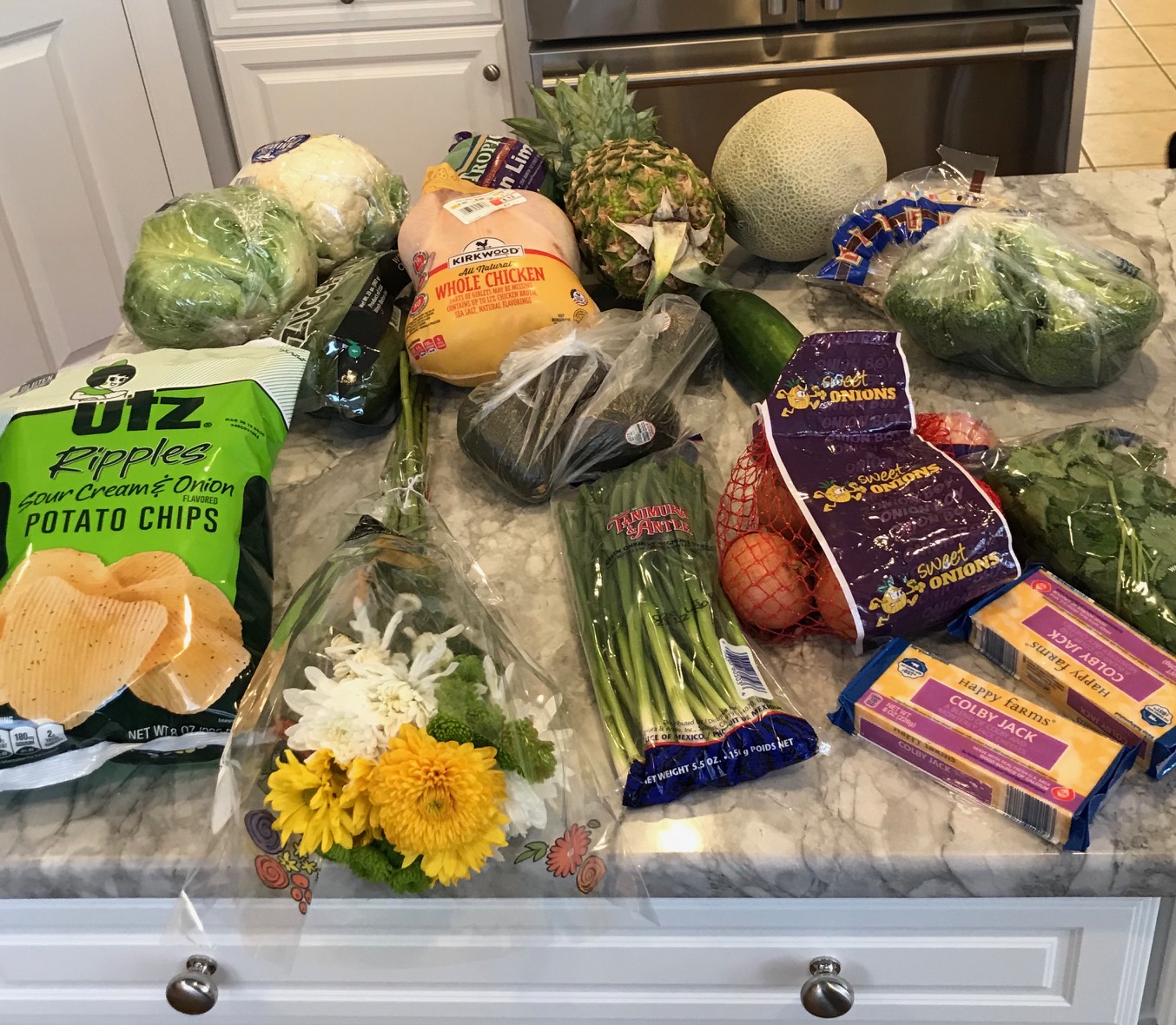 Sign up for weekly circulars
Open up or sign up for those weekly circulars from your local grocery chains, even if you don't currently shop there.
For me, this includes Aldi, Giant Eagle, Shop n' Save, Fresh Thyme and Costco. Even places I don't normally shop, it's good to get an idea of what comparable prices are that week. For example, it feels silly to buy grapes for $2.99 a pound at Giant Eagle when I can get them for a third the price at Aldi.
If you start planning your purchases and your grocery shopping according to what's on sale, this is one of the easiest and quickest ways to start saving money on your groceries.
Save your receipts
Periodically, I like to do a checkup on how I'm doing. Even though I am more price conscious, I find myself still avoiding the hassle of visiting multiple stores to save money. Every so often I compare where I actually paid versus the best price. Then I see how much I could have saved if I had done a better job price shopping. Here's a recent example from over the last few weeks of where I could have done better.

I could have saved $16.57 over the course of three weeks (~$5.52 per week) just by being a little more price conscious and taking an extra trip to Aldi once a week to stock up on a few items. I also realized that some products I expect to remain the same like Romaine lettuce occasional have a price increase. If I'm not paying attention, I just grab it and pay extra. Usually I could substitute something like green leaf lettuce for a better price. Just a good reminder to pay better attention.
Stock up when items go on sale
One other lesson I've learned it to pay attention to the shelf life of products to see how much I can stock up on items when they go on sale.
We like Dietz & Watson Italian chicken sausage for breakfast. We eat them about once or twice per week. I've realized by watching the prices that about every 6 weeks the grocery store has a sale for either $1 off, $25% off or 50% off. The normal price is $5.99. If I wait until it goes on sale for 50% off, I can get it for $2.99. These are usually good for several weeks, so I stock up on my supply then. I can store in the fridge or even stockpile in the freezer and thaw when I'm ready to use.
Another realization I had was I was missing out on big savings by not stocking up when Costco has sales on toiletry items. For example, toilet paper can save $4.50 when it goes on sale. If I buy once a month, I should be stocking up and buying more when I see these savings rather than just waiting to buy when I need them.
Proceed with caution when Wholesale shopping
Last year for the first time, I sat down and consolidated an average weekly bundle of groceries to determine if it made sense to switch from Sam's Club to Costco. I previously did not do much grocery shopping at Sam's Club and only bought toiletries. Then I heard good things about Costco meat and produce.
I started by laying out all the numbers starting with what I buy on a weekly basis and the average quantity I use. I input the price per unit I pay today and compared it to the price per unit I would pay if I started shopping at Costco by downloading a price list I found online. Due to the size differential, you'll have to do some calculations to convert quantities and prices on apples-to-apples basis.
It looked like Costco would be an overwhelming big impact to our budget if we made the switch. The savings would be more than $50 per week based on my assumptions.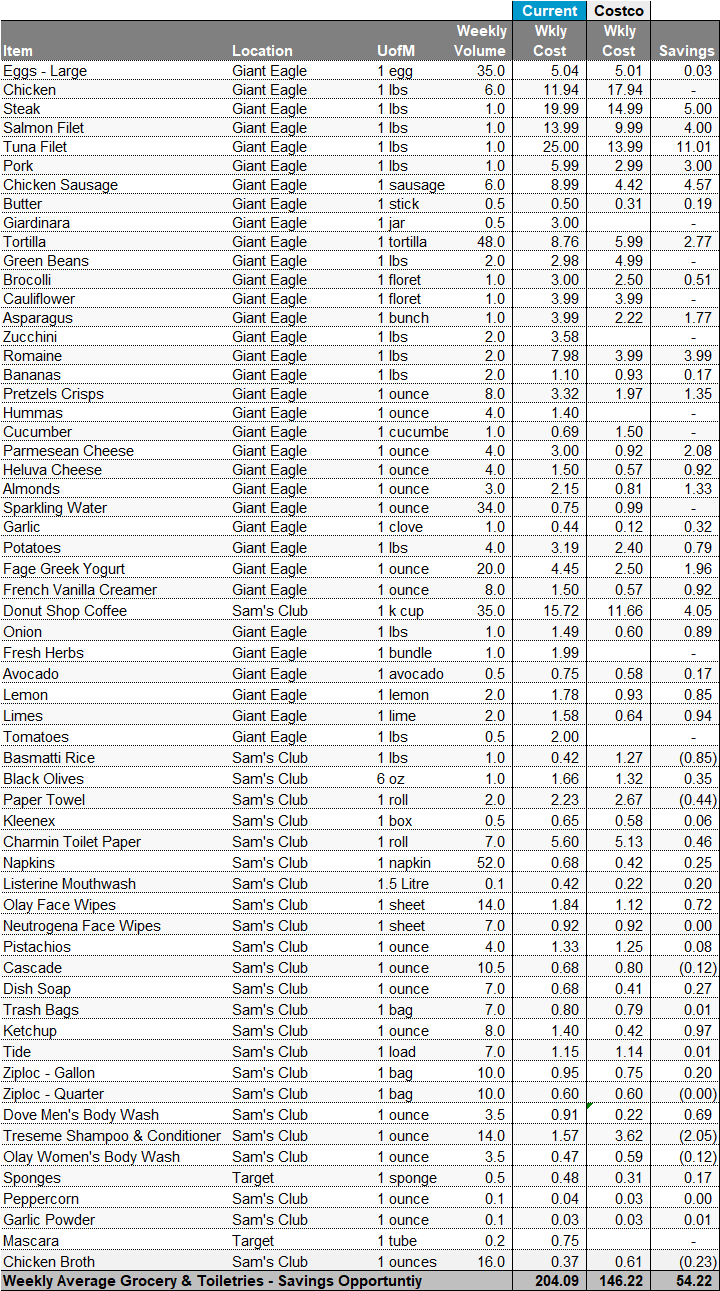 The savings haven't been that big in reality. The wholesale shopping experience can have disadvantages for a family of two. For example, even though we liked to eat pork tenderloin once a week, I would have to buy at least 5 pounds at a time. Based on the packaging, we would have to make about 2.5 lbs at a time leaving plenty of leftovers.
But we found that it just got to be too much for just the two of us. We went on pork tenderloin burnout and a couple times we wasted a package because we didn't use it in time or forgot to stick it in the freezer.
Lesson learned. I can only buy certain things at Costco when I'm sure I will use them or we're having a large family gathering.
Don't forget to include the cost of the membership in your price analysis. The annual charge for Costco membership $60 for normal membership or $120 for the executive membership. Using the executive membership, you can save additional 2% on everything you buy at Costco. Every year, they apply the savings to your membership fee and send you a coupon back for the savings. In our first year, I covered the $120 membership fee plus received about $50 in Costco Rewards.
Always check for coupons
You should always check for coupons, especially on toiletries.
I'll be the first to admit I do not like couponing.  But if you're looking for a specific item, check online first for coupons (even try going directly to the manufacturer's website) or flip through the clipper magazines that get delivered to your house. Almost without fail, if you plan, you can find a coupon.
I've realized the worst thing I can do it wait until I really need something or buy items on a whim. I just end up paying more for the convenience of getting it right away.  Most toiletries have a coupon, especially if you don't have brand loyalty.
I'm fortunate enough that my Hubs is the king of finding coupons. I send him a list of some odds and ends I need and he scouts for coupons before I head out shopping.
Check the "discount" sections
On occasion, you might find a good deal in your shop the "discount" section. Typically, there are certain sections of grocery stores for products that they didn't sell out completely and they have odds and ends left. Aldi has a pretty large section like this, but I've seen them at the end of the aisles at Target and even my local Giant Eagle.
I've gotten some pretty good deals on items I was already planning to buy just by perusing through these sections. Examples are trial hand soap scents that didn't make the cut for $2.31 vs $4.99 normally. I even bought my favorite mascara that was packaged together with an additional travel size that was selling for less that just the single mascara $1.99 vs $3.99.
Go Ethnic
Another of my favorite tips is to try out your local ethnic food stores. We have about four nearby that are great ways to save money, Oriental, Indian, Mexican and Italian.
Our personal favorite is the Oriental Market. You can save big on items like soy sauce, Chile paste, spices, green teas, broths, rice and surprisingly on meats and seafood. We make a wonton soup with pork and shrimp – it was amazingly cheap to buy directly from the Oriental Market. You also can find produce like bok choy, ginger and other Oriental green vegetables that have been fun to try and add some color to our soup.
So instead of just heading down your ethnic aisle at your mainstream grocery store, check out your local ethnic store instead for an inspired experience. We've had some trouble finding items that we're used to, but the staff and other customers have been incredibly helpful in offering recommendations.
Shop for groceries online
Okay, this one surprised me as I'm not yet converted to the idea of buying groceries on the internet. But I will say there are a few products that could be really good deals online.
One recent example is we bought a big 5 pound bag of coarse sea salt from Salt Works for $11.40. The last bag we bought lasted us several years. We use it for our salt grinder. Instead of buying those expensive disposable salt grinders, buy a refillable one. Trader Joe's sells $1.99 for a 3.3 ounce grinder or $0.60 per ounce. A bag from Salt Works is about $0.14 per ounce a savings of ~75%.
Know when you're paying for convenience
There are some obvious red flags that you're paying someone else not to be bothered to do something yourself. This can be true when you're buying pre-washed and cut vegetables and even when you're buying meat.
One trick I've learned is to spend a little extra time prepping ingredients ahead of time vs paying the premium for small conveniences. A good example is ground chicken. I use ground chicken about every couple weeks, which can go for about $3.50 or more per pound. I can get regularly fresh chicken breast for $1.99 per pound. I cut the chicken in a few pieces and toss in the food processor and it's the same as ground! Sure, it's some extra cleaning, but it save a few dollars every month.
Another area is for salads, we eat salads pretty regularly for lunch or a side salad with dinner. I buy all the ingredients like whole carrots, fresh romaine, tomatoes, and cucumbers, then chop them up ahead of time for a quick salad. I can get a whole 2 lbs bag of carrots at Aldi for $1.20 versus buying baby carrots or match stick carrots for $2.49 for 10 ounces.
Sure, I catch myself paying for convenience from time to time, but just make sure you're aware of the cost, then make an informed decision.
In April, despite eating almost exclusively home cooked meals, we had the lowest ever grocery & toiletry monthly spend in our budget tracking history. It hasn't been instantaneous, at least not for me, as it's taken time to build my frugal shopping smarts. Hopefully there is at least one tip in here to help you stop making some of the grocery shopping mistakes I've made for so many years. Feel free to share your own shopping tips as I'm always looking for new ideas to save money!