Mula approved Amazon Hacks
Amazon has become a staple in the Mula household. Although we love the convenience of getting delivery right to our door, Amazon is not always competitive on price. We found a few tricks that help us save more – here are our favorite Amazon price saving hacks!
Call Customer Service
We order frequently from Amazon – about 1 in about every 10 times we have a snafu with the delivery.  Although Amazon is great about notifying you when a package is delayed, if you order a product with a guarantee delivery date, call Amazon Customer Service to notify them immediately when it arrives late. Every time, Amazon has offered us either Amazon credit or a free month of Amazon Prime service just by calling to complain. Their policy tends to change over time so I believe at this point they will only offer Amazon credit.  It's a great way to save a few bucks for a minute of your time!
One time we received notification from Amazon that our package was delivered. No package on the front porch. No package on the side of the garage. Amazon has an image of where the package was delivered and description that it was dropped on the back porch. Again, nothing! We noticed a discrepancy in the type of brick in the image. Mr. Mula had to track down the package at our neighbor's house, who lives up a large incline (that's western Pennsylvania for you).  By promptly calling Amazon customer service, Mr. Mula secured a $25 credit for the inconvenience. Mr. Mula reminded the Amazon representative that he does in fact not work for Amazon… Most representatives have a limit to the amount they can offer in discounts – so if you're displeased ask to speak to a supervisor.
Make sure to add the Amazon Customer Service number which is 1-888-280-4331 to your contacts! For us millennials, I know sometimes it's a challenge to pick up the phone to dial actual people but I promise it's worth it.
Utilize FREE Amazon Price Trackers
I'm obsessed with the free Amazon price tracker — camelcamelcamel! Create your account, then start adding frequently purchased items by simply copying the link to the product on Amazon and pasting into the camelcamelcamel price tracker.

You can immediately see the price history of the item to find out if the current price is the best price they offer. Here's an example of my eyeliner, right now it's listed for $5.99. Its lowest price was $3.59 – a savings of $2.40 or 40%! At the peak price, it was $7.25 or about 20% more.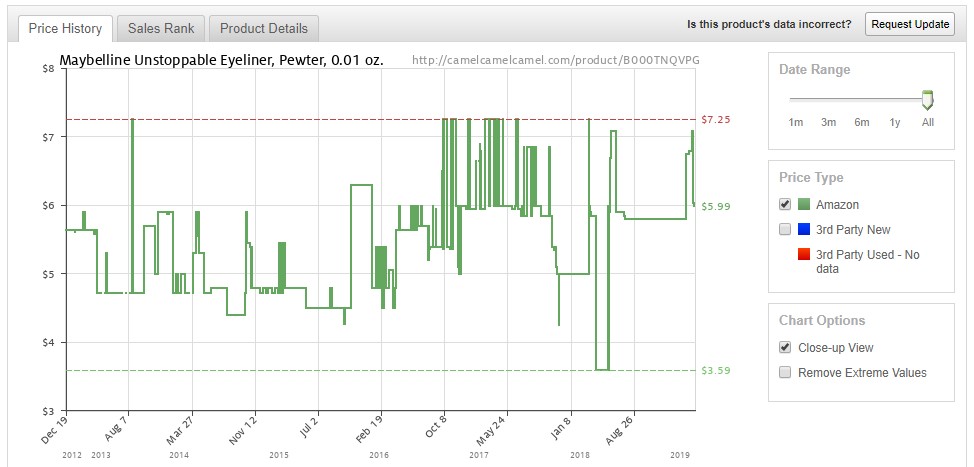 If I'm not in a rush to purchase the item I simply set up a price watch by setting my desired price.  As soon as the price drops to $4 or less, I will receive an e-mail notification from camelcamelcamel.  The site also lets you compare Amazon's price versus other third-party sellers and lets you set a price alert for either.

We also use camelcamelcamel anytime we're at the store and unsure if we're getting a good price. Amazon is not always the cheapest option but this site gives us a good perspective of the best price in the online market and is an incredibly quick way to do a sanity check.
I use it frequently for make-up and toiletries and before the holidays to start tracking prices on gift ideas.
Find deals on Amazon Warehouse
We are often in the market for new household appliances for the latest Mr. Mula cooking adventure. We love top of the line kitchen utensils but not the hefty price tag. We've found that Amazon Warehouse is a great way to get a big discount on used or refurbished products that are in good condition but are not brand new.
We saved 25% buying a used Marcato Pasta Machine from Amazon Warehouse when the Hubs decided to make homemade ravioli. However, the prior owner used it one time and put it back in the box, uncleaned (gross)! Unsatisfied that the "like new" product description, Mr. Mula called Amazon Customer Services and they offered us an additional 50% off. By the way, the ravioli's turned out great… Recipe coming soon under the Homestead section!
With just a little bit of effort using these tips, tricks and tools — you will be on your way to becoming an Amazon saving pro!
Please like and share our articles on Facebook, Twitter and all of your other favorite social media sites — and please share your money saving Amazon tips with us as well in the comments section!!!