Mussels with Bacon & Lemon Butter Sauce
Mussels with Bacon & Lemon Butter Sauce
Servings: 2-4
Difficulty: easy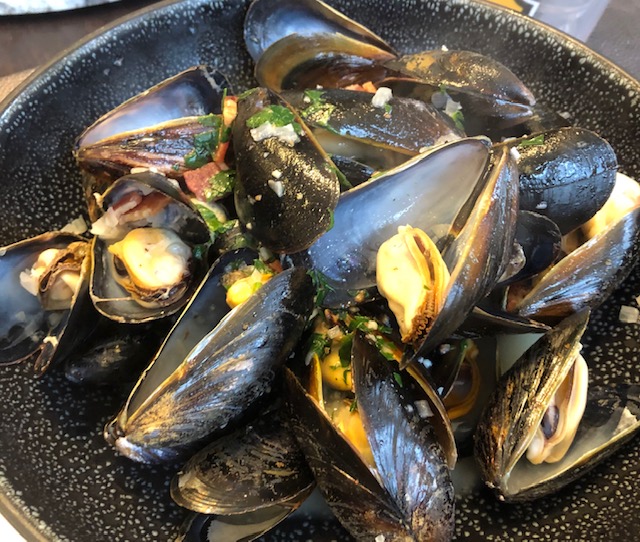 A light, flavorful seafood dinner in less than 30 minutes.
Recommend serving with homemade baked fries or fresh bread to soak up all the delicious broth. If you don't have an open chicken stock, substitute water and chicken stock powder. If you're not a bacon lover, you can also substitute high-heat olive oil to cook the shallots & garlic.
Approx. Cost per Person $6.60.
Ingredients
2 pounds Price Edward Island (PEI) mussels
4 strips of thick-cut bacon, cut into small pieces
3 cloves of garlic, minced
1 small shallot, minced
4 ounces of dry white wine
2 ounces of chicken stock
1/2 lemon, juiced
Salt & Pepper to taste
Fresh flat-leaf Italian parsley, rinsed & chopped
3-4 T. of salted butter
Directions
Clean the mussels in cold water in a strainer, dispose of any partially opened shells and debeard (remove the fuzz around shell).
Combine the white wine, lemon juice, chicken stock, salt & pepper and set aside.
On medium low heat in a Dutch oven, cook the chunks of bacon until crispy. About 5 minutes.
Add the minced shallots & garlic to the Dutch oven with the bacon and grease and cook for 1-2 minutes.
Add the mussels to the Dutch oven and pour the liquid of white wine, lemon juice, chicken stock, salt & pepper.
Turn the heat to medium high and cover.
Let cook for 3-5 minutes until all the mussels have opened.
Remove the mussels from the Dutch oven to serving bowls. If any mussels did not open, discard.
With the heat still on, add butter & parsley to the Dutch oven to create the sauce. Stir until all the butter has melted.
Pour the sauce over the mussels & serve immediately.